Abigail Norfleet James is a popular author with teachers, and with parents who want to help their kids become the best possible students they can.
Her book about teaching girls, Teaching the Female Brain: How Girls Learn Math & Science is available on Amazon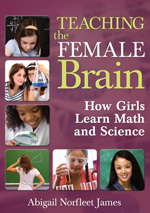 and through its publisher, Corwin Press.
Written for teachers, and increasingly popular with parents of daughters who struggle in science and math classes, this book offers a practical guide to tapping into girls' unique sensory, physical, cognitive, and emotional learning centers, and shows you how to adapt classroom and at-home experiences to assist girls' learning, particularly in math and science.
Teaching the Male Brain: How Boys Think, Feel & Learn in School is a practical guide to teaching boys, combining classic and cutting-edge research to show you why boys learn differently than girls, and how  teachers can help the boys in their classroom succeed. Parents of boys have also discovered this book, which was named the ForeWord Magazine Education Book of the Year in 2007.
Abigail's latest book, Active Lessons for Active Brains: Teaching Boys & Other Experiential Learners Grades 3-10, will be available through Amazon and Corwin Press in March, 2011.
Experiential learners – who are often tagged as learning-disabled – need graphic input, or tactile interaction, with lesson material in order to fully grasp content. Reading or listening, which are the primary methods of classroom instruction, won't reach or teach the experiential learner. This workbook has 73 lessons in math, language arts, science, and general study that offer specific strategies for improving the achievement of active learners, both boys and girls.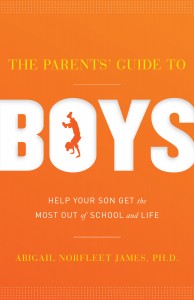 Released in December 2012, Abigail Norfleet James' latest book is the one that parents everywhere have been waiting for – The Parents' Guide to Boys: Help Your Son Get the Most Out of School and Life.

No matter how old your boys are, you'll find something to help you help your sons succeed – from infancy to high school graduation, Abigail James shares tips in this book for giving your boys a great start in school, keeping them engaged in the classroom, and creating a happy, self-sufficient young man.