You've got a son – lucky you!
Boys are balls of kinetic energy, moving and climbing and throwing
from infancy through adulthood.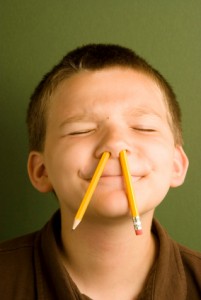 The trick to helping your little ball of motion become a happy, successful learner is teaching him yourself, starting the day he's born.
Following along in the ages-and-stages approach in
The Parents' Guide to Boys: Help Your Son Get the Most Out of School and Life,
you can help your son at every stage of development:

How talking to your baby, in real words, from early infancy will unlock his communication skills – both listening and talking

Why the physical play of boys – roughhousing – is critical to your son's cognitive and emotional development
The 7 Rules of Discipline that will keep your boy, and your family, on track from toddler days through high school
How to help your active, curious boy avoid getting tagged with the ADHD label if he's not really ADHD
Preventing helicopter-parent syndrome: the keys to supervision without being too "hands-on"
Spot bullying, and help nip it in the bud
Build an independent, thinking, thoughtful young man from the ground up
No matter how old your son is, you'll get plenty of actionable tips from The Parents' Guide to Boys!
Click the book cover below to buy a copy – print or digital – on Amazon.
Bonus! When you get your confirmation email from Amazon, forward a copy to promo@abigailnorfleetjames.com and we'll send you a special bonus: an ages-and-stages checklist for you to use as you raise your boy into a successful, happy man!
(We won't keep your email address, we'll only use it once – to send you your bonus. That's it!)
What are you waiting for? Click the link, and buy your copy today!