Winner of the 2007 ForeWord Magazine Book of the Year Award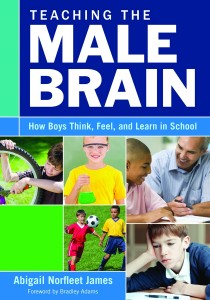 This book is a practical guide to teaching boys, combining classic and cutting-edge research to show you why boys learn differently than girls, and how  teachers can help the boys in their classroom succeed. Click the book cover image to get a copy on Amazon.com.
Dr. James' research presents the cognitive, sensory, physical, social, and emotional differences between genders when it comes to learning. She draws from years of classroom experience to offer strategies that have been tested, refined, and used successfully over a long career.
This easy-to-use handbook provides helpful examples, case studies, and troubleshooting sections illustrating how to handle the concerns that can arise when teaching boys.
Learn how to:
Recognize sociological and neurobiological foundations of cognitive gender differences as they relate to education
Look critically at curricula and teaching practices, evaluate how well they work with boys, and uncover areas where changes can be made
Develop educational approaches based on research and classroom practice to provide a climate responsive to the learning differences of both boys and girls
Learn to use this brain-based research to provide appropriate and positive learning experiences for the students in your classroom!